Thousand Eyes on Me – The Leadership Gap & Personal Branding
27 octubre, 2020 @ 11:00

-

13:00

UTC-5
Join the Virtual Launch of Thousand Eyes On Me, meet our advisory board and attend a webinar on Personal Branding
About this Event
We are very excited to welcome you to the virtual launch of Thousand Eyes On Me together with our experts and advisory board.
Agenda:
5:00 – 5:10 PM CET – Introduction by Moojan Asghari, Founder of Thousand Eyes On Me
5:10 – 5:50 PM CET – Panel Discussion with the Advisory Board (Bindi Karia, Kiran Maverick, Tanja Kufner, Taryn Anderson, Mark Bünger, Reza Malekzadeh, Anu Bhardwaj and Stewart Rogers)
5:50 – 6:00 PM CET – Q&A from the Advisory Board
6:00-6:30 PM CET – Personal Branding Workshop by Ilhiana Rojas
6:30 – 7:00 PM CET – Live Attendees interaction and Q&A
PART 1:
PANEL DISCUSSION: HOW TO CLOSE THE LEADERSHIP GAP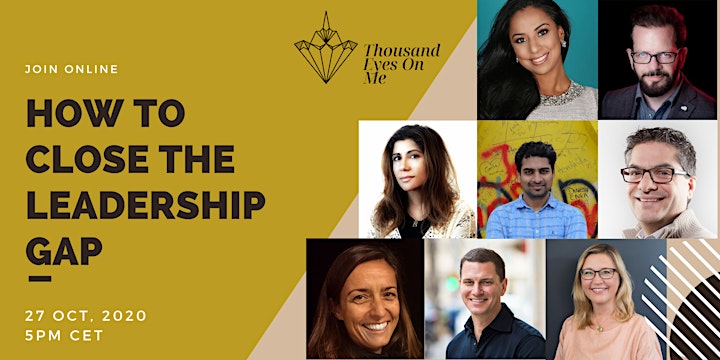 We will discuss the importance of mentoring and coaching for women and gender minorities, the state of art on pay gap and funding gap with the VC point of view, and effective ways to close the leadership gap.
Speakers:
Moderator: Moojan Asghari, Founder at Thousand Eyes On Me
PART 2:
WORKSHOP: Ignite your Personal Brand and Unlock the Power of YOU
Speaker: Ilhiana Rojas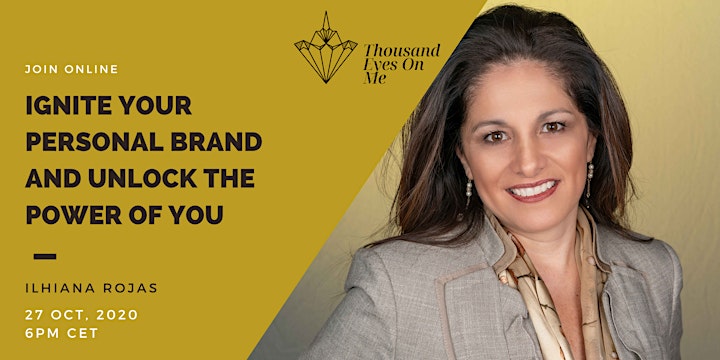 Personal Branding is becoming an essential part of professional success. This is not only true if you are looking for a new job, or looking to switch careers, it is also important within the workplace to make sure you get the promotion you want, achieve greater visibility for increased responsibilities, or to make sure your daily efforts and accomplishments are noticed. By having a strong personal brand you enhance your visibility, build your credibility, gain recognition, and stand out from the crowd to move your career forward.
During this webinar you will understand how to embrace your authentic self to create a powerful Personal Brand, and how to elevate your voice to deliver an impactful and memorable presence.
KEY TAKEAWAYS:
o Understand the key elements behind a Personal Brand.
o Gain awareness on how to create a well-supported Brand strategy.
o Learn how to ignite your Brand to create an impactful and memorable presence.
About Ilhiana:
Ilhiana is an Executive & Transformation Strategy Coach, owner and CEO of BeLIVE Coaching and Consulting. Ilhiana has 20+ years of global executive experience in top Fortune 500 companies in Mexico and US headquarters, leading and coaching professionals, teams and business into success. Her expertise includes leadership development, diversity & inclusion practices, enabling high-performing teamwork, strengthening personal skills, building resilient & agile behaviors, emotional intelligence, and personal branding.